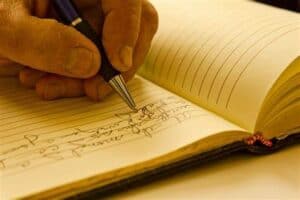 ​​​​
Summer. 2011.
It's 110 degrees outside. The sun bakes the concrete courtyard where I sit, the radiation of unbearable warmth rising. I smoke cigarettes with my back leaned up against the wall as I sit on the ground in a spot of shade near the stairway. I don't have a cell phone. I don't have money. I have a stiff paper card in my pocket that I'm supposed to have signed each time I participate in a 12-step meeting, a Bic lighter, and a pack of rolling paper. I slum around the courtyard emptying ashtrays – when I find butts that still have some tobacco left in them, I tear off the paper and empty the remaining contents into one of my rolling papers and fashion rudimentary unfiltered cigarettes and smoke them. I smoke constantly. 
I'm in a sober living program. Comparatively speaking it's very regimented and formulated to be more than just a flop house. We have chores assigned to us that we're responsible for nightly. We must participate in meetings daily and work with a sponsor on 12-step to qualify to live here. We're expected to be looking for work; actively making efforts to improve our situations but I'm sliding on mostly all of these requirements. In my heart a part of me wants to be better but I'm not there yet. Other people want this for me more than I want it for myself and right now in these moments I hate myself for that as I bake in the Arizona sun and think about getting high. 
I feel like I can't escape it. I see people improve around me. I see people smile and participate and socialize and make the best of their situation, but I can't figure out how to make myself want the same thing. Instead, I don't stick with the people making the right moves, I forge my meeting card signatures, half ass my efforts to look for work, spend my time playing spades in the courtyard and smoking these disgusting homemade cigarettes.
I've been here multiple times. I've had multiple sponsors. I "work" the first three steps with many of them, always balking when it comes to the fourth. It seems like too much to take an honest look at myself right now, much less write it all down on paper and go through it with another person. As much as I'd like to think it has to do with a lack of vulnerability or even feeling ashamed of myself, it has more to do with laziness and a seeming inability to act despite how upside down I am in life right now. I'm battling post-acute withdrawal symptoms constantly. My anxiety is high. The cravings are on me and I'm not taking any steps or action to alleviate that. I'm leaning into it.
Despite all of this the people here like me. I'm funny. I crack jokes constantly in an effort to deflect attention away from my inactivity in the program and ingratiate myself with everyone. To make it seem as if I'm ok when in reality I'm in an immense state of pain and suffering. Humor as a coping mechanism is a constant of my personality. The program director, the house managers, my brothers that live here with me currently want to see me succeed and afford me every opportunity to do so but at this point in my story I just don't want to get better. This is a good place. People heal here. I'm not at that point and it's depressing. I bide my time. I'm here on account of circumstances outside of my control. 
I'm here for less than a month before I'm giving in to the madness and shooting heroin in the McDonald's bathroom down the street. I trudge back to the property on foot, sweat dripping off my face onto the pavement below. I slip into my room and attempt to hide from everyone (there's no hiding from these people. I'm pouring sweat out of every pore in my body, scratching my face until it's beet red and I can barely keep my eyes open.) They ask me to take a UA after finding me nodding off in the stairwell while trying to read a copy of Permanent Midnight and I concede that there's no point. They tie my meager belongings up into a trash bag and send me on my way. I walk a quarter mile down the road to a park and build a fort from a sheet and the trash bag on a playground. I give away everything in my life, even the basest of necessities: shelter, belonging, camaraderie – opportunity to heal and improve – for this. Emptiness. 
I lie down in the sand and look up at the stars, clothes drenched in sweat, drugs wearing off, bleary eyes, and I'm alone.  
2014. 
It's 8:00 a.m. I'm in an apartment off Granite Street in Prescott AZ. Less than a quarter mile from the square. The long-term treatment program I'm currently enrolled in owns this small complex. There are four units: each with two men occupying. All of us have 4-6 months sober including myself. There's a house manager onsite to help us stay accountable. I've got eggs and bacon frying on the stove and a pot of coffee brewing. I'm freshly showered. I'm wearing a clean T-shirt and shorts that I've laundered myself. I close my eyes in the kitchen and recite the serenity prayer – asking God to direct my steps and my thoughts today and thank him for another day. I keep my eyes closed for a moment, smelling the food, feeling the rays of sunshine warm my face through the window, and reflect. 
I've been here for five months. I've participated in every level of care offered to the best of my ability and am currently in the sober living portion of the program. I attend morning check in's three times a week with the other men. I go to an evening IOP. I see a therapist one-on-one once a week. I go to a 12-step meeting in the community every day. I'm working the steps with a sponsor that I speak with daily. The owner of the treatment program gives me and my roommates work. He pays us cash to maintain the houses, do landscaping, and complete other odd jobs for neighbors in the community. It's extremely simple and is also one of the most gratifying things I've ever done in my life up until this point. I'm 27 years old and a phone is one of the first things I purchased with money I earned from work that I completed honestly that wasn't pills, heroin, marijuana, or meth. I'm extremely proud of myself for saving the money to buy this phone.
I came to Prescott at the suggestion of someone I met in a 30-day residential program in Phoenix. That's something I do now – take suggestions. The ending of 2013 was a bitter sequence of the most miserable, sickening, demoralizing, and life-threatening events I've ever experienced. It breaks me. Fully. It breaks me to the point that I want to change. Finally. I want to get better to stop letting everyone in my life down. I take suggestions ferociously and without question because I have no idea how to escape myself and live clean, in recovery. That's all I do. I listen to what people have to say and I take it to heart, and I don't think super hard on it – I just act. Years later when people ask what changed for me, or what the catalyst was for all of this, I just tell them I broke completely as a human being and started taking suggestions.
I love it here. I relish the opportunity to convene with my friends and socialize. The men I live with are amazing. We practice extreme vulnerability and accountability with each other. I am an active participant in their recovery as they are in mine. On the weekends we go hiking, exploring, and camping. We jump into the freezing water off cliffs at Watson Lake. We go to AA roundups and conventions. We make communal meals together and break bread. We shoot the breeze and laugh, make inappropriate and insane jokes, play cards, watch movies, strum guitars, and listen to music. We conduct nightly reviews at the end of each day and utilize each other's insight to see where we can improve in our recovery.
I stand in the kitchen and think about all these things. I think on all the years I spent trapped. The years I thought I didn't want any of this. I think about all the time I spent in various treatment programs, halfway houses, surrounded by people who genuinely cared for me and loved me for who I was even as a broken down, black hole of a human being. In retrospect, I feel purpose and meaning in them. For years I believed those experiences were meaningless – up until clear-headed moments of reflection like this – where I see them for what they were: the steppingstones of my path laid before me, perfectly, in the order necessary, that I might walk into this apartment kitchen on a weekday morning, clean. Transformed. Clothed. Fed. Loved. Accepted. Healing. Living. The precipice of darkness transformed into a bridge of light. 
I come out of my reverie. I breathe. I eat. I go to group. I set about my day on the work crew. I'm working at one of the houses when I notice a girl. She has long, burnished, fiery red hair. She's beautiful. She works here too. I notice her often. She laughs in slow motion, and I find myself enraptured by her smile even standing a hundred yards away. In less than 10 years from this moment I'll have two beautiful children with this woman, a home, a career, a business, and a million other things that don't feel remotely within the realm of possibility, but I don't know that right now and I just smile at her. She smiles back.
I finish my day. I make my way out to the balcony of the apartment. It's late. I'm on the second level. I can hear the muted sounds of a television drifting out the window of the unit below. The streetlights cast a hazy glow over the sloped street, lined with towering green trees. Their limbs bristle softly in the breeze, lending a gentle rhythm to the night. The crisp air feels fresh, and I look up at the night sky. The stars are brighter here. They are infinite and my world feels full of opportunity. New horizons. For years I gave everything in my life away to stand here, in this moment, alone, in perfect peace.
With love,
Sean – In Recovery